Protection Against Water and Dust
Model Galaxy S5, the first time for the flagship line of Galaxy, equipped with protection against water and dust to IP67. This means the degree of protection of the body from dust, as well as partial protection against ingress of water. In particular, we are talking about the possibility of immersing the smartphone under water to a depth of 1 meter for 30 minutes. Accordingly, you can swim with the Galaxy S5, but do not dive, and if you get a smartphone under heavy rain, pour into a glass of water or a drop in the bath, got into the fluid body then this all will not harm it. With all of this Samsung engineers left the opportunity to remove the back cover, which gives access to the battery and a slot for memory cardmicroSD.

If you keep Galaxy S5 in a bottle of water, thenalso smartphone would be safe, just as it can be washed under a tap or lowered into the bath, though half an hour. After these experiments, you can open the back cover and make sure that water does not get to the battery. IP67 protection does not provide a complete seal for housing, so the water may enter inside the cover; rubber protective rim protects only the contact with the battery, as well as slots for microSIM and microSD. However, a drop of water under the back cover should not scare until it gets to the battery, it's okay.
Display
Galaxy S5 uses 5.1-inch touch-sensitive OLED display technology based Diamond Pixels, whose resolution is 1920×1080 pixels at a density of 432 pixels per inch. At the moment it is one of the best screens for smartphones. It has excellent color rendition and viewing angles. Moreover, glass Corning Gorilla Glass 3 protects the screen.
Traditionally, in the flagship Galaxy S5 in the settings, you can select one of five display modes: Adapt Display, dynamic, standard, professional photography and cinema. Each of them has its own set of picture and only in Adapt Display automatically adjusts the display under ambient conditions. This helps especially in bright sunlight.
In the closest to the reality of the standard mode, the screen provides more than 100% coverage of the color space sRGB.Color temperature is at 6800K.Value of the gamma curve is almost perfect. Minimum brightness of Galaxy S5 can be from 2 cd / m ², a maximum impressive 698 cd / m ².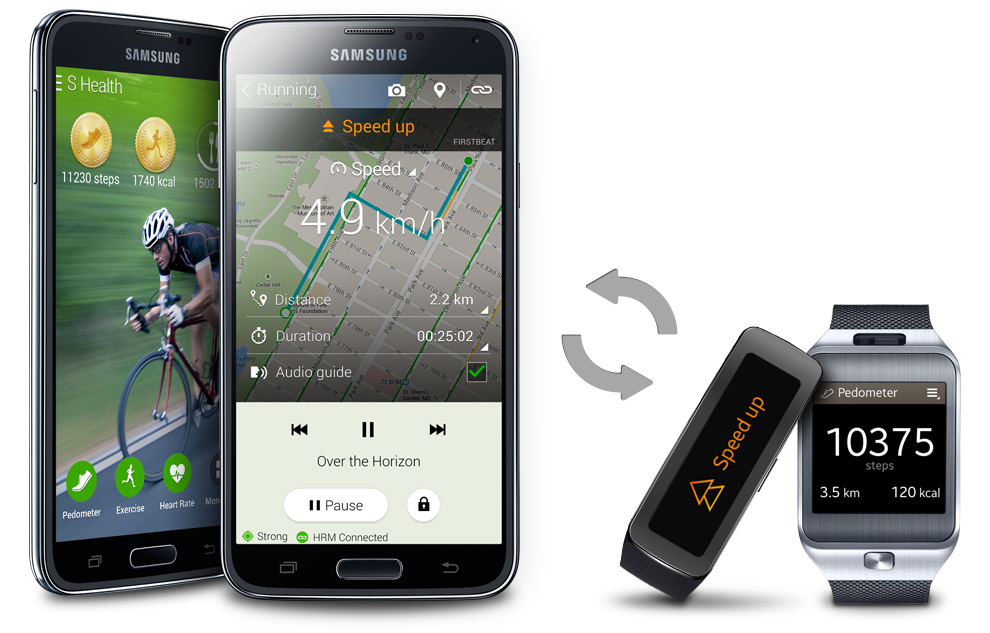 Hardware Platform
There are two versions of Galaxy S5 and on of which is based on system-on-chip Exynos 5 Octa with a processor operating under the scheme big.LITTLE. It includes 4-cores Cortex A15, which can operate at frequencies up to 1.9 GHz, as well as quad-core Cortex A7,which operates to 1.3 GHz. For graphics Exynos 5 Octahas chip Mali-T628 MP6 with support of OpenGL ES 3.0. Therese is 2 GB RAM and 16 GB of internal memory that can be expanded by another 128 GB through cardmicroSD.
Performance of Exynos 5 Octais really smooth; today it is one of the fastest chips on the market. Thanks to it, in the test AnTuTu Galaxy S5 is gaining 38,505 points.This is more than Galaxy Note 3 and Galaxy S4.
In general, there is no performance problems in Galaxy S5 but not only at high load smartphone body heats up, but it does not create much discomfort, as the rear plastic cover doesn't transfers heat, so the main heating is on display glass.