Camera and Video Recording
In Galaxy S5, Samsung has used a 16-megapixel camera with 1/2.6 ISOCELL sensor and aperture f/2.2. Using the new sensor has allowed Samsung to significantly improve the shooting in HDR-mode.
In good light the camera takes great pictures.In HDR mode, the camera is good and fulfilled by backlight.When lighting is poor, if you shoot without flash, photo quality is greatly reduced.
Among the interesting camera features worth noting expanded focus mode. When activated camera captures near and distant objects, so after a photo shot, the user can change focus from near to distant or focus the entire scene.Front camera in Galaxy S5 is 2-megapixel; it shoots pretty standard for such authorization.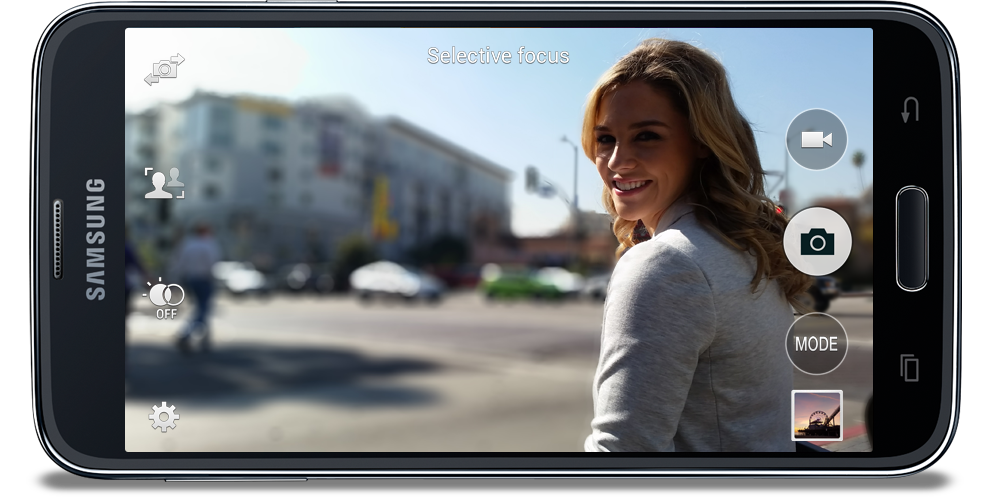 Galaxy S5 can record video (in the HDR mode) 1080p at 60 frames per second.It also has support for recording UHD video resolution of 3840 × 2160 pixels at 30 frames per second. In addition the camera can record slow motion video. Also, the camera settings are very broad and hidden in a separate menu.
Fingerprint Scanner
Built-in mechanical button "Home" has integrated fingerprint scanner that allows the user to enhance the security of data in Galaxy S5, using the fingerprints one authenticated user can unlock the smartphone.
Configuration of the scanner is very easy; in the settings there is a special mode that helps to scan prints. In total S5 can remember three fingers prints.
The fact that the scanner in S5 understands only smooth holding of your finger on the sensor, if just sliding your finger, it just does not recognize the fingerprint. Thus, unlocking smartphone with one hand is very uncomfortable. But by itself scanner works very quickly and in the future it could be a step toward a more secure contactless payments. Samsung has already signed partnership with PayPal.
S Health and Heart Rate Monitor
With the release of Samsung Galaxy S5 Company launches a new application for a healthy lifestyle the S Health 3.0.
Compared with the previous version of the program, it has become more pleasant to look at, and instead very popular measuring ambient temperature and humidity, Samsung has added support for S Health heart rate monitor and log exercise, such as running and biking.  Thus, the application may fix the time distance and calories burned.